The UAE has a long history of employing security guards from other countries to defend both public and private facilities. Previously, an individual or a firm would hire a watchman and pay him as they saw fit. However, significant developments happened in the country's private security industry following the passage of the PSBD security law in 2002.

In this article, we will be talking about PSBD; what this acronym means, how can you get a license, and more. Previously, an individual or a firm would hire a watchman and pay him as they saw fit. Most of those employed in the security profession were inexperienced and underpaid. Nevertheless, things have changed for the better.
What do you mean by PSBD?
How can I get a PSBD license in UAE?
What is the difference between PSBD and SIRA?
About Emirati Guard Services
What Do You Mean by PSBD?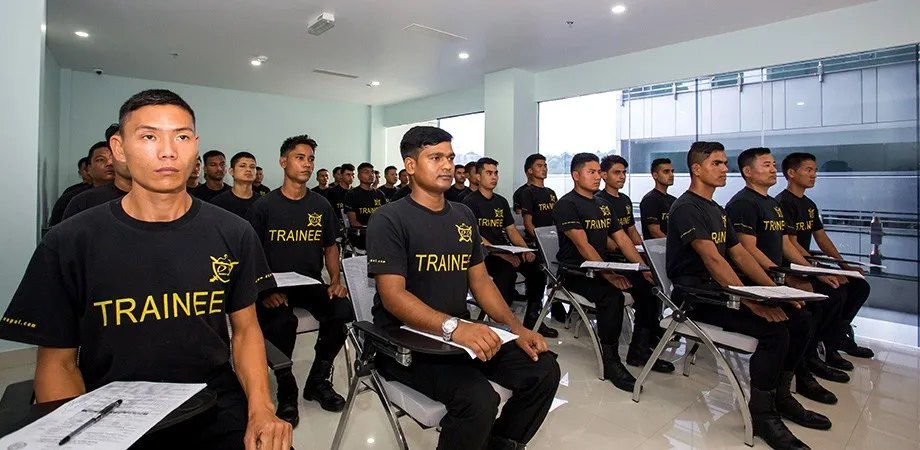 PSBD is the Private Security Business Department. It is the government authority in Abu Dhabi, Umal Quin, Sharjah, Ras Al Khaimah, Fujairah, and Ajman that oversees the private security industry and security professionals.
PSBD is an Abu Dhabi police unit that reports to the Ministry of Interior. It was established in 2002, following the implementation of new security regulations in Abu Dhabi. PSBD is now a federal agency, and its personnel is a combination of police officers and citizen support. It also has offices in several emirates.
Reasons to Work in this Field
If you are healthy and well-adjusted and have a higher secondary education diploma, you can come to the United Arab Emirates and obtain a PSBD security license and start working. There are several reasons to do so, the most common are:
Accessible Training
One advantage of becoming a security officer is the low entry barrier. Most people can simply get into this industry. Most security guard training programs do not require a college education; as long as you have at least 18 years old and have no criminal record, you are eligible.
After completing the PSBD security guard training as well as the training course, you are eligible to take the Ministry Security Guard Licensing Test; consequently, obtaining your security guard license to complete the process.
High Demand
There is strong justification for the security industry's expansion. A fantastic strategy to guarantee your job stability is to apply for positions in the security industry. To protect people's homes and places of business, there will always be a demand for security guard services that are PSBD trained.
You are employable by a broader range of businesses due to the sheer number of entities in need of high-quality security services, which further increases your career alternatives and job security across many industries. Due to the significant need for solid security, employment is also sustainable, meaning that once you get work, you may anticipate having a secure position.
Good Stepping Stone
Being a security officer is respectable and helpful work, but if you have larger aspirations, the position might be a great stepping stone. A job in the security industry is an excellent opportunity to gain training and user experience for the next phase of your life if you are aiming to work in the police department or as a private investigator.
More practically speaking, security work may also be a means to earn some money and pay the bills as you make plans to move on to the next objective. Likewise, you can use the abilities you acquire throughout security guard training for the rest of your life. Your training provides you the choice to return to security, renew your PSBD license, and earn a living that way if you find yourself in a rut. Therefore, you can use your marketable security abilities to keep making a living for decades to come.
Flexible Schedule
Many places require 24-hour security, which may provide a comfortable period for night owls to work. When operating as a security guard, the need for 24-hour service might give a more flexible schedule. You can seek security guard tasks for the night shift to work at a time that works best for your schedule.
In general, most security officers work constant hours, which is beneficial if you need to work on a defined schedule. Most professions assign security based on shifts, providing you more flexibility to manage other elements of your life.
More Alternatives
Many people believe that working for a security guard firm entails a lot of patrolling, standing guarding, and keeping an eye out for intruders. While many security employees perform these tasks, the job is more versatile than some people assume.
If you prefer to stay put, you can work by monitoring security cameras or controlling access to important areas. If, on the other hand, you are a good communicator, you can locate a position where you are more prominent and can interact with the public. There are many different types of occupations accessible, so you have some options in terms of what you can accomplish.
Rewarding Work
People strive for meaningful employment that gives them a sense of achievement when looking for a career. The sole purpose of a security guard is to protect people's lives and property. Each day at the job, you know you are personally caring for individuals, which can be a rewarding aspect of the job.
Many security personnel interact with the general public, providing you a firsthand glimpse at the impact you have on the lives of those you safeguard. Therefore, knowing how you affect the lives of those around you may be a gratifying form of satisfaction in and of itself. Particularly, if you have numerous opportunities to see the goodness you do at work.
Similarly, there are guidelines in place to make sure you can offer trustworthy protection when you are responsible for your client's safety. Getting in shape is included as part of the training to make sure you can do your job well.
You can anticipate habits at work that can keep you physically and mentally healthy. With up to 10,000 steps taken per shift, some security guards are getting plenty of workouts at work. Due to the nature of your profession, it is possible that your coworkers are also interested in staying in shape, giving you additional opportunities to take care of your health outside of work.
How can I Get a PSBD License in UAE?
To obtain your PSBD security license, you must follow these steps:
Step one: Firstly, you must work for a security firm in the UAE before sending the PSBD full form. You might be hired by a company in the United Arab Emirates or your place of origin. If you are not already a resident of the UAE, the firm will complete the necessary paperwork to get you a visa and a labor contract.
Step two: After arriving in the UAE, the company would apply for NSI training (National Security Institute). The five-day course covers a variety of topics including rights and privileges, legislation, safety and security precautions, and other security-related knowledge.
Step three: When a student completes the NSI program, he or she is eligible to take the PSBD exam. Consequently, the employer would request that the candidate undergo a PSBD exam.
Step four: PSBD simply administers license exams for security guards; no training is offered. You should be ready for that since the majority of the questions are drawn from the foundational security officer training with NSI.
Step five: There is no written PSBD exam. Subsequently, you would take the test on a computer screen, and you would have to choose the best response from the provided possibilities. You must answer 38 of the 60 questions correctly to pass the PSBD exam (75% out of 100).
Step six: When you press the submit button, the result is immediately published, and the license is granted within three days.

What is the Difference Between PSBD and SIRA?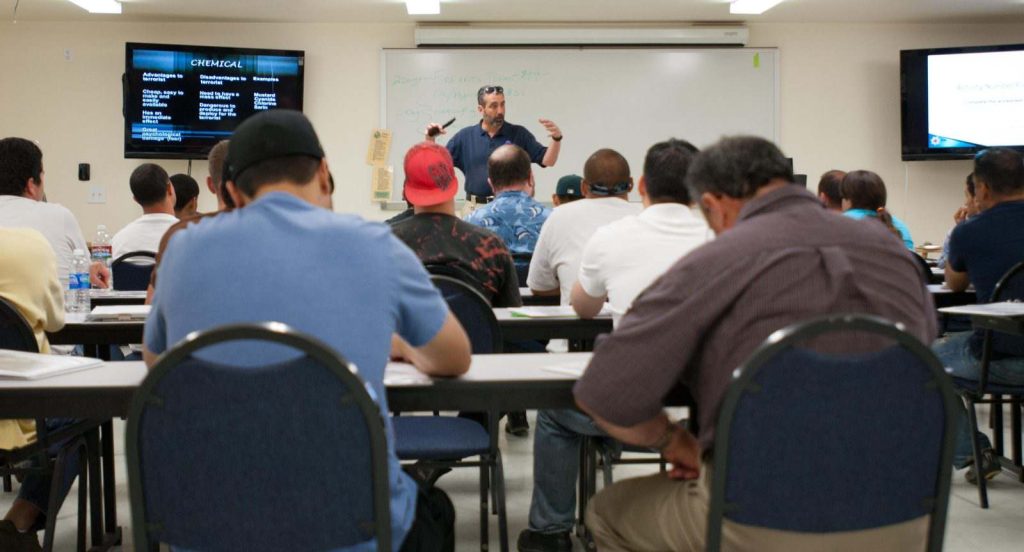 The Security Industry Regulatory Authority (SIRA) and the PSBD are the two private security laws in the United Arab Emirates. One of these regulating bodies must issue a license to anyone who wants to operate in security in the UAE. Knowing which department might benefit from hiring security guards is crucial if you are seeking work in the UAE.
Although security tasks are the same in both standards, there are a few key differences. A security guard with one security regulation's license cannot work in another security regulation's territory. Let us observe:
Regulation
Both are private security regulatory organizations. The Dubai government established SIRA under state security regulations. Although PSBD is the federal rule for private security sectors, it was first introduced in Abu Dhabi.
Security guards in Dubai earn less than their counterparts in other emirates. The average wage for a SIRA guard working 12 hours per day, six days per week is AED 2.265. Whereas a PSBD officer can earn AED 2.770.
Overtime
Since the authority does not penalize the employer for allowing the security guard to work on their rest day, the DPS guard or SIRA works more extra hours than the PSBD guard. The PSBD prohibits security guards from working more than six days per week; if someone is detected doing so, the firm must be held accountable.
Training
Both regulations require security guards to complete a one-week training course, with SIRA guards attending the SIRA academy and PSBD candidates attending the NSI (National Security Institute). PSBD does not provide training; instead, NSI does so on its behalf. Individuals can apply for SIRA training, whilst NSI training can be obtained from any security firm in the UAE.
Licenses
SIRA licenses can be renewed for many years without any training, whereas PSCOD licenses must be renewed every two years. Before renewing, candidates must undergo renewal training, pay the PSBD course fees, and pass the PSBD exam.
Working places
Since most foreign corporations and the wealthiest people live in Dubai, PSBD guards may not be able to find a suitable job as easily as SIRA guards. Security guards in Dubai have a better workplace than security guards in other emirates.
Law enforcement
In terms of enforcement, PSBD is stricter than SIRA; hence most security companies in dubai and guards can receive penalizations by the government for breaking the rules. However, some liberalization has occurred in SIRA.
City cops and the government police department coordinate PSBD guards; plus, the PSBD also has a central command room. On the other hand, if the SIRA guards discover any unlawful acts, they should alert the Dubai police.
These are the basic distinctions between the two security standards, although according to UAE labor legislation, both authorities provide vacation, end-of-service benefits, overtime computation, and other annual perks.

About Emirati Guard Services
Emirati Guard can quickly provide you with the support you require to acquire security guard services. We have the knowledge and experience to put together the ideal security staff for you to safeguard both your assets and yourself. Please enable us to help and assist you in your efforts to protect yourself, your properties, or your cash. You can get the following from us:
Let your security needs be in our professional hands and we will do the most to keep you safe thanks to our local Emirati security services. We will be responsible for keeping you and your loved ones protected. With our company, you will always be safe in the United Arab Emirates.
Do you want to know more about our security guard services? Contact us! You can get in touch with our agents by sending us an email at contact@emiratiguard.com or calling us at +971 43 316 688.
If you are looking for job opportunities in the area, you can go tothetalentpoint.com and start your search there. Submit your resume or cv as soon as possible and receive a selection of job opportunities, all depending on your qualifications. If you would like more information about these services, please write us at contact@thetalentpoint.com.