A security guard has enormous obligations because many people's lives are in their hands. When safety hazards are identified early and eliminated or replaced before they become a threat, it saves lives. The primary function of security guards is the prevention and deterrent of crime as well as the enforcement of the rules and regulations where they are guarding, even if the security guard responsibility varies depending on the client's needs.

In this article, we will talk about the security guard responsibility and also their duties. Most people know what is a security guard, nevertheless, they usually do not know about security guard duties and responsibilities. Let us learn more here:
1. What are Security Guard Responsibility and Duties?
2. What are the Roles of Security Guard Responsibilities in Duties?
3. Why Emirati Guard to suffice your security guard needs?
What are Security Guard Responsibility and Duties?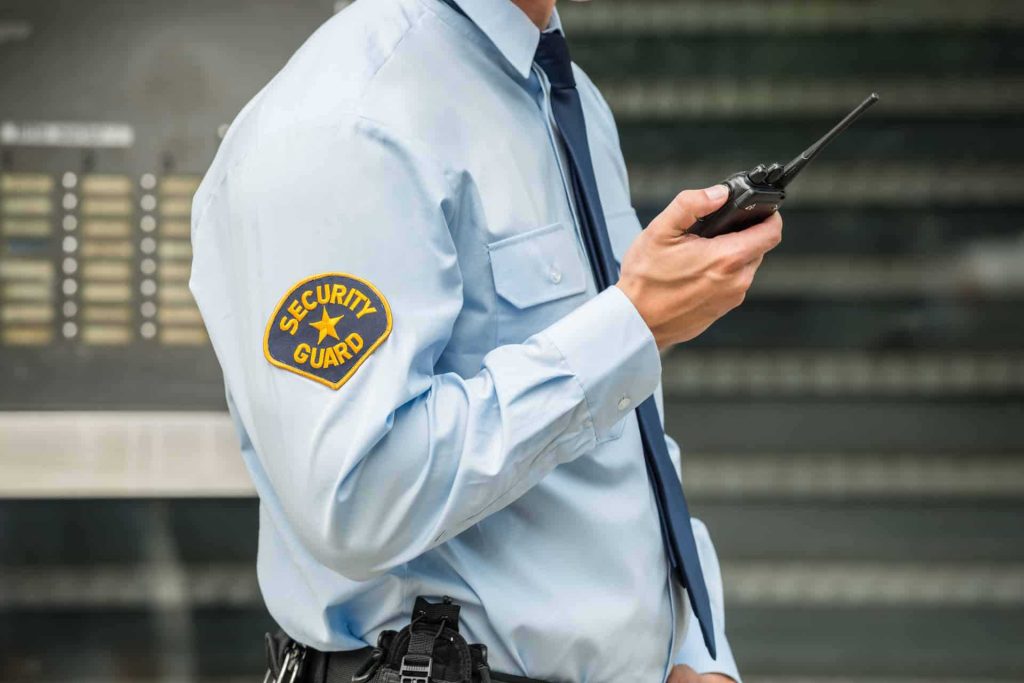 Now, let us define what is the security guard duty.
Observing and Reporting
Your security guard responsibility and duty may vary from site to site and from area to area within a location. It is crucial to observe things while paying close attention, documenting them in your notepad, and presenting them to the appropriate person.
Knowing the neighborhood around your place of employment will assist you spot any unexpected occurrences while you are on assignment. Therefore, when something happens that affects the security and safety of your site, the security officer must note it and give the relevant person the information. Accordingly, you must notify your boss or department head if policies and procedures are not followed.
Detecting and Deterring Crimes
Criminals will not engage in illicit activity on your property because of the obvious presence of security there. Consequently, criminals may change their intentions and plan if they observe the patrolling services offered on any facility.
However, you must provide the authorities with important information if you witness someone committing a crime. This could aid in their ability to apprehend the offender and halt the crime in progress. As quickly as possible after the incident, you should take careful notes so that they can be presented as evidence in court.
Keep Great Public Relations
Another crucial function of a security guard is to maintain strong public relations because you will be in regular touch with the public while on duty. Your customer always expects you to make the information public. Subsequently, people can come to you for help if they have an issue, so act properly in these instances.
Dealing with Emergencies
An emergency is an unanticipated incident that can occur at any time and pose a threat to people and property. A security guard's job includes effective emergency reaction. You could be the first to notice, deal with, and manage an emergency. In an emergency, you should take the lead before others look to you for assistance.
In the event of a fire, flood, or bomb threat, each organization has its own strategy and protocol. You must respond to the crisis in the manner specified in the protocol. If there is a fire, you may need to evacuate the building; in this circumstance, knowing what to do and acting swiftly can save people's lives. Private security guards are more appreciated in emergency situations, which is why you must manage the emergency scenario calmly.
Limiting Access and Making use of Warning Systems
The flow of people, cars, and materials into and out of a site must frequently be under the direction of a security guard. Although material "in" might need a delivery order and material "out" might need a gate pass, both of those things are allowed paperwork you should double-check.
You might need to examine their identification in order to control the crowd's movement. The customer may occasionally worry that staff members are stealing the supplies you would need to check the luggage. The security guard must be familiar with how to operate the alarm system as well as other types of surveillance equipment, including CCTV cameras.
Patrolling
Another crucial component of the security guard's duties is patrolling. You must move around or stop at various locations on your site in order to see more of it than by remaining in one spot.
The patrol can travel on foot, by bicycle, or by car. As a result, patrolling not only enables you to observe what is happening but also identifies potential safety risks all across your property.
Numerous people can see you when you are on patrol, leading them to believe that you are a security officer on the lookout for criminal activity.
Traffic Control
A responsibility of security guard includes direct traffic management at various locations, like shopping centers, nightclubs, etc. Consequently, you might need to operate as a traffic controller in the parking lot at locations with high traffic. Lastly, you can be requested to manage traffic during an emergency to assist the police in a public space.
Control of crowds
Crowd control is the systematic control of a sizable crowd. Hence, if there is a disagreement on your website, you must control the crowd and handle it delicately. You should be involved in crowd management if you are assigned duty at big public gathering places including local festivals, music events, stadiums, and public demonstrations.
Finding Safety Hazards
When you are on patrol, you can discover many different kinds of safety concerns at your locations, like water leaks, naked wiring, overheated boilers, etc. To correct it, you must record and report it.
Performing Other Essential Acts
Some security officers, particularly those employed by private individuals, do additional duties. They could feel overburdened with additional duties including taking calls, responding to texts and emails, and doing necessary errands for their work.

What are the Roles of Security Guard Responsibilities in Duties?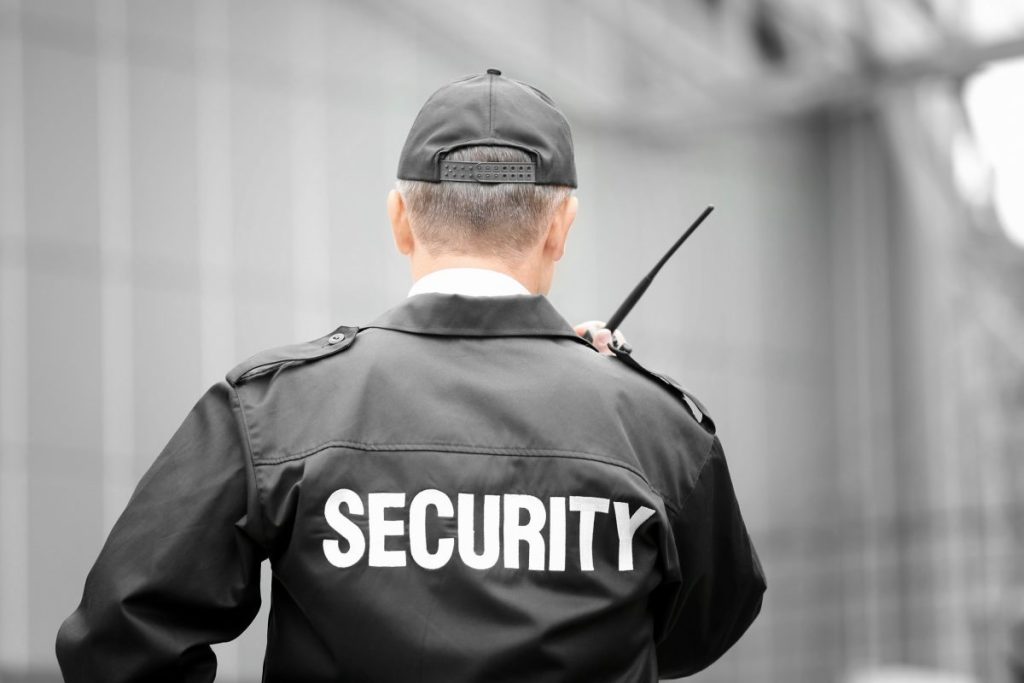 Depending on the needs of the client, security guards might play a range of responsibilities. These are the main roles of security guard responsibilities in duties:
Protect People
The safeguarding of the public is a significant portion of the security guard's duties. The security guard does this in a number of ways, such as by keeping watch over the area, keeping an eye out for potential security threats, and deterring trespassers from entering the building.
Everyone can benefit from the protection of a great security guard, including:
Their client and staff.
Government officials.
People in a certain property.
VIP individuals and more.
A security guard:
Noticing a crime committed against a person.
Keeping individuals away from dangerous situations.
Being aware of potentially hazardous situations.
Making the environment safe.
Employees may be required to be escorted by a security officer, especially if it is late at night and they are walking to their car. A security guard is continually on the lookout for potential fire and accident hazards.
The security guard's primary duty is to ensure that everyone is kept safe while they work and that no one is endangered. Security personnel are in charge of making sure nobody is wounded if a mob has assembled to demonstrate against the company's management during a labor dispute.
Protection of Property
The duty of security officers is to keep goods safe from theft or damage. Customers may request a search of your luggage and vehicle if they have concerns about employees taking corporate property.
What kinds of buildings are guards responsible for protecting?
Client belongings (Building and contents).
Personal property (owned by customers, employees, or clients).
Store and products.
Public property includes government buildings, roads, and parks.
Tools that security guards use to protect properties:
Barriers.
Awareness of your surroundings.
Patrol.
Searches.
Surveillance Equipment (CCTV)
Observation.
Crowd control.
Alarm.
Locks.
Patrolling the facility discourages theft, robbery, and damage. Property damage can occur in a variety of ways, including fire, which can entirely destroy a structure and its contents, water leakage, flooding, melting snow, and ice damming. Property damage can be avoided if you spot them while they are little and report them promptly.
Protection of Information
Information security is becoming an increasingly important aspect of the security profession. Regardless of the efforts of the majority of enterprises and governmental organizations, theft of intellectual property and cybercrime are increasing. The following information is protected by security guards:
Confidentiality is the practice of keeping information private. A security guard is involved in information protection, not information leakage. In your position as a security guard, more people trust you than other people. The security guard is in possession of the company's passwords and other access cards, and he is familiar with all entry and exit points.
If someone is not permitted to use the key and access card, you shouldn't let them. Keep this information under wraps and notify the appropriate parties if the video and alarm system need to be repaired or are not functioning. Knowing when it is okay to communicate and when it is not okay to talk is a key component of protecting information.
Theft or destruction of computer data is referred to as computer crime, regardless of the motivation. Nowadays, the majority of corporate information is kept on computers, where it can be stolen, used for goods and services, and sold for profit. One can access accounts or credit cards using the financial record. By searching through the trash or getting access to someone's desk, a burglar can discover private information like the password or secret code.
If workers fail to log off the computer when they are supposed to. It can be used by someone to view personal data. Although it can be challenging to hire security guards that can monitor employees' computer use, you should always be on the lookout for odd behavior.

Who Can Put in risk the Confidentiality on the Workplace?
A fired worker who is irate with the employer.
A worker who is utilizing a different person's computer.
Someone who frequently works from home and shows up at the workplace at an unexpected hour.
An employee who arrives early and leaves late, you appear to have little to do at the office.
A worker who speaks openly about matters that they ought to keep private.
People are permitted to labor outside in a confined space where no one is monitoring them.
Why Emirati Guard to Suffice Your Security Guard Needs?
Knowing about the security guard responsibility is key when looking to hire one or becoming one in the UAE. Hiring a security company is the best way to obtain the security services you desire for your personal interests. Therefore, Emirati Guard is here for you, to make sure that you obtain the security solutions that are necessary to safeguard what you want to protect.
With our company you can obtain:
The best thing of hiring us is that you will receive a comprehensive service, that will include trained professionals with their respective licenses and credentials. As a result, you can rest assured that your security guards are professionals with their respective certifications. Consequently, providing you with a quality service that can leave you satisfied.
Do you want to know more about the security guard responsibility? If so, you can always give us a call at +971 43 316 688. Or, you can also send us a detailed email with your requirements or necessities at contact@emiratiguard.com. Contacting us will lead you to enhancing your business, money, or private security.
Moreover, would you like to work in the United Arab Emirates? Are you tired of sending out applications and never hearing anything back? We have the perfect solution for you! In the UAE, it is simple to find work if you go to The Talent Point. To get started, just create an account on thetalentpoint.com and submit your CV or resume. You will thus have access to a range of employment possibilities. If you want to start your job search with us, send us an email at contact@thetalentpoint.com.