Any private company needs to have a good security guard in Dubai. Some businesses need this service much more than others, for instance, shopping malls and banks. The reason is that they are businesses that are much more exposed to trespassing than others. Plus, it attracts a ton of benefits, the most important being keeping employees and customers safe.

In this article, you will see all the benefits that having a good security guard in Dubai brings to your shopping center. Throughout this writing, the most important advantages of having access to a private security company in a mall will be mentioned and explained; or in any other business. Thus, you can convince yourself that making this contract is the best business decision you can make.
Learn about the different benefits for customers
What are the benefits of hiring a good security company for entrepreneurs?
Some FAQs
Why Emirati Guard for shopping mall security?
Learn about the Different Benefits for Customers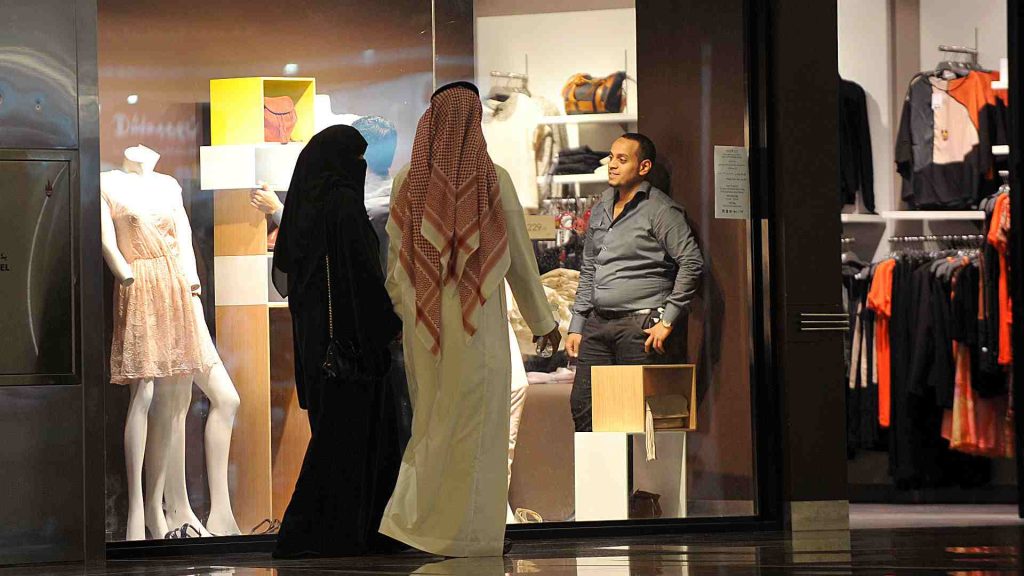 Currently, you can find that security guards are the protectors, ensuring a state is free of dangers or threats. In turn, shopping centers are social places where many people gather. Here, you can go shopping, watch movies, eat, meet friends, or just hang out in your free time.
Also, these huge malls can host a wide variety of festivities or events on special occasions. In this way, they are in charge of attracting more people and attracting more attention than the usual days. Therefore, there must be security in shopping centers that prevents any type of criminal activity such as robbery, crime, and even a terrorist attack.
Having experienced and trained security guard services will fully anticipate any suspicious activity. In this way, you will provide customers with a safe environment for everyone.
Ensure Customer can Trust us First
Security guards must be always present. In this way, they will be able to provide service to all customers 24 hours a day and 7 days a week. Thanks to this, they will gain the trust of customers. It does not matter if it is at the moment of parking the car, sudden criminal response, or emergency medical assistance.
Security guards must always be attentive and prepared for any situation that arises and help visitors. Achieving in this way, visitors feel more comfortable with their visit to the shopping center.
Guarding People and Resources
It is very easy to encounter risky situations at any time and in any place. However, in shopping centers, this is a bigger problem due to the large number of visitors that it has during the day. In addition, you can find stores that have different goods that need to be protected.
For this reason, it is important to have security guards in charge of protecting the mall. Not only of any problem with customers but also of any problem with towards the structure of the shopping center itself. It is important to protect everything that is inside the shopping center.

What are the Benefits of Hiring a Good Security Company for Entrepreneurs?
Having a good security company is very important and is beneficial for everyone. Finding companies that provide good service is important and here we can find good Dubai security services. For this reason, you can see below all the benefits of having a good company:
Safety Suppliers
All security guards have a vital security role in shopping malls and everything in between. Security guards are professionals who are trained in different dangerous activities and crime prevention. Additionally, they can maintain public accountability, customer service, conflict resolution, and emergency response.
Security guards are in charge of ensuring a risk-free environment. This can be obtained through experience and proactive security. A company that offers security services will need to have a good track record of giving visitors peace of mind.
It is important to look for providers who are trustworthy and have a good reputation. This is because it is the safety of the visitors and the establishment itself that is at stake. Therefore, security services should be something that is selected with the detail that it needs.
Public Relations
Another benefit that security guards provide us is that they serve as ambassadors in shopping centers. The security guards on duty are very informative and friendly support to all visitors and shoppers. In this way, you can add this to the impeccable experience of any visitor when buying.
You can find that public relations are part of a good service and in this case, it is no different. Communicating with visitors is important and can be helpful in many emergencies. So having a security service that can build rapport with the public is very helpful.
Visual Deterrent
Making the selection of a security guard for shopping malls and any retail outlet is very helpful. This is because they will be able to visually deter all the people who visit these places. The vigilant behavior exhibited by the security guards will meet any trouble or damage that occurs in the shopping malls.
Its simple physical presence in shopping centers will be able to ensure a much more positive experience on the part of the customer. In addition, these manage to ensure the feeling of peace, which is a great value of great importance for all security guards. In this way, they will be able to pave the way for a much healthier environment.
Some FAQs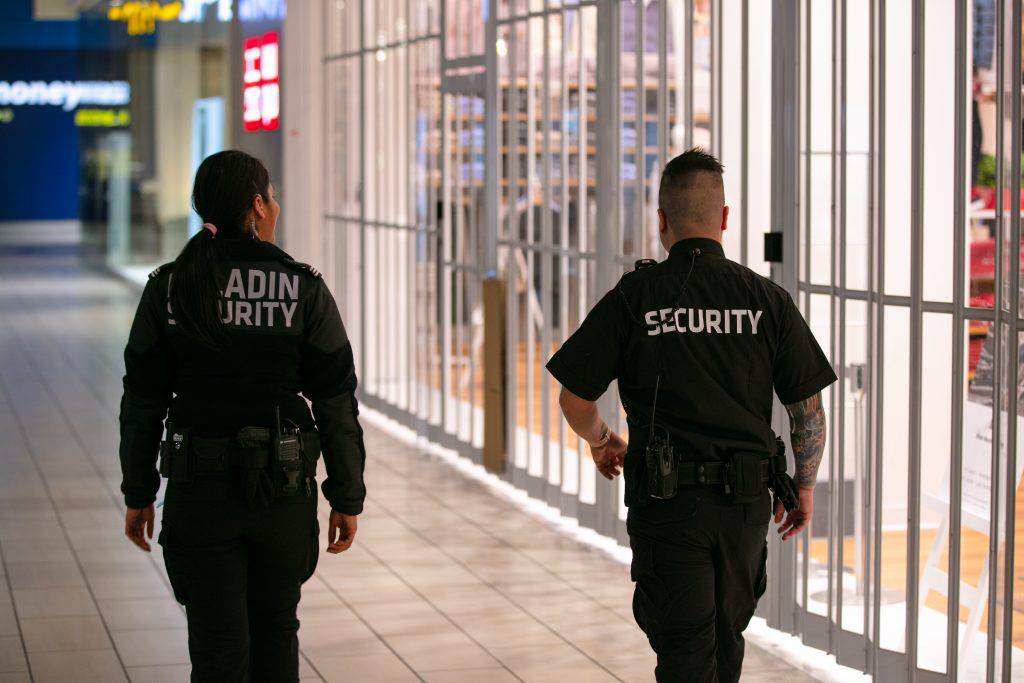 A person who owns a business always has certain doubts about choosing the best security company. Especially when it comes to a shopping center that is constantly inhabited by many people. In addition, you are surely wondering what functions security guards must perform when you hire them. These questions and others will be answered below, in this section.
What are the functions that the mall security guard must fulfill before opening the shopping center?
The security guards in Dubai must comply with different obligations before proceeding to open the shopping center. It is important to clarify that these activities are not only for shopping centers, they also work for other private companies; but, they must be adapted to the needs of the business in question.
When it comes to shopping malls, the first thing a good security guard in Dubai should do is do inspection rounds all over the place. That is all the stores, security areas, warehouses, and any space that is part of the mall. This is to make sure that everything will start smoothly and that there is no person with bad intentions.
Secondly, it must be checked that all security devices are in proper working order. This refers to security cameras and any CCTV equipment. Finally, they are in charge of making the opening to all the mall staff. In addition, to verify their identities and that they work in one of the premises.
What should a security guard in Dubai do while the mall is open?
The most important thing that security guards must do while the shopping center is open is to monitor customer access. In addition, they must have control of the cashier areas and monitor them. Also, packages and bags should be inspected if necessary.
On the other hand, you must have control of the security arch in case there is a loss of devices. If a robbery or theft happens, different actions must be taken to solve this problem. For instance, close all the doors and catch the offender, if necessary call other security forces.
What are the functions that the mall security guard must fulfill after opening the shopping center?
Once the shopping center is closed, an exit control of the employees must be carried out. This involves the inspection of all worker packages and bags, if necessary. In addition, patrolling security must be carried out to verify that no one remains inside the building.
On the other hand, night rounds must be carried out inside and outside the building. Also, check the connections and check that the alarm system works correctly. Finally, the working day ends when daily service reports are made, where any atypical situation or incident is specified. All security guards must have the corresponding security equipment.
What is the SIRA License?
A SIRA license in Dubai is known as the seal of approval for all the security equipment and preparations that a business has put in place. If you want to hire a company that offers security, you should look for one that has a SIRA license. Because this implies that this security company was examined by SIRA inspectors, both its facilities and services. In addition, they grant a certificate that proves they have this document.
Why should you hire security companies that have SIRA approval?
A private security company that has SIRA approval can provide different benefits to the shopping center. Some of these advantages are mentioned below.
They are private security companies that generate trust
If you hire services from a company with SIRA approval, you will have a top-quality security system. Because, all security guards in Dubai must go through SIRA training, which prepares them for any emergency. In addition, it is a company that is going to provide the shopping center with the complete installation of CCTV, to achieve total protection.
Ensure equipment maintenance
When acquiring all the services of a company that has SIRA approval; must guarantee the regular maintenance of the closed-circuit television system, during the course of the year. This regular maintenance of the system is very good since it provides a concrete and effective solution to the failures that may appear. In addition, this maintenance must also be done to avoid inconveniences.
They keep your entire system up to date
A private security company that has SIRA approval guarantees that the CCTV system will be kept up to date. That is, you are going to get the latest news on security systems for your shopping center. This includes a change of equipment to the latest generation and thus keeps the entire building and adjacent areas safe; for both customers and employees.
Grants credibility
All security companies that have SIRA approval give it a lot of reputation; therefore, the person who owns the shopping center can be sure that it will be safe and will not be inconvenienced.
If the security company provides assistants, what are their functions?
There are security companies that provide security assistants to security guards. These assistants have different functions and thus be able to guarantee that the shopping center will be completely protected. The first thing they must do is open and close the doors for the customers of the shopping center. In addition, they are in charge of guiding and providing information to customers.
On the other hand, they must verify and maintain the building facilities. Among them, are boilers, ventilation, meters, heating, and more. If one of the premises has a policy of leaving bags in lockers before entering; the assistants are in charge of guarding these belongings. However, they cannot search any of the bags.
Another function that is very important that they fulfill is that; they must provide information and ensure that the rules of the establishment are followed. But, they are not allowed to keep identity control or register belongings.

Why Emirati Guard for Shopping Mall Security?
As you can see, it is important that all shopping centers have to have private security. This is because they are places that have a lot of people and must be kept protected, otherwise misfortunes can happen. In case you are looking for a good company that provides these services contact Emirati Guard.
All our security guards have SIRA training and our company has SIRA approval. We are specialized in providing security and peace of mind to our clients. To contact us you can call us at +971 43 316 688. Also, you can write to us at contact@emiratiguard.com.
In case you want to work as a security guard in Dubai or any other existing area in the UAE, or any other country in the Middle East; The best option you have is to enter thetalentpoint.com. If you enter this website, you will undoubtedly find the job you dream of so much. If you wish, we have an email address where you can write to us and obtain more information: contact@thetalentpoint.com.